Confession is this Saturday,  March 10,  at 11 AM at St Stans.
Communion session 1: Saturday, April 21 at 11 AM at Transfiguration.
Communion session 2: Saturday, April 28th at 11 AM at Transfiguration.
---
School of Religion (CCD)
Alison Morisi, Coordinator of Religious Education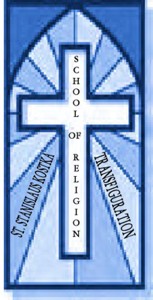 Saint Stanislaus Kostka and Transfiguration School of Religion classes are held Sundays during the school year  after the 9:30am Mass at  St. Stanislaus Kostka Church from September – May.
Classes are held in St. Stanislaus Kostka School: 61-17 Grand Avenue, Maspeth
Children are expected to attend all classes except for illness or weather related closing.
***Children WILL NOT be released early for C.Y.O Sports/Activities***
Please complete the form, print it and submit with tuition to St. Stanislaus Kostka Rectory at
57-15 61st Street, Maspeth, NY   11378 during regular office hours.
(new registrants need to submit a copy of the child's Baptismal Certificate with Registration Form)
Tuition for 2017 – 2018 school year is $100 per student/ $150 for family of 2 or more students.
Please make check payable to:  St. Stanislaus Kostka/Transfiguration School of Religion
FIRST DAY OF CLASSES: 
SUNDAY, SEPTEMBER 10
School of Religion
Schedule 2017 – 2018
Classes are 10:45 am – 12:00 pm
September 10 CLASSES BEGIN
September 17th
September 24th
October 1st
October 8th NO CLASS COLUMBUS DAY
October 15th
October 22nd
October 29th
November 5th
November 12th
November 19th
November 26th NO CLASS THANKSGIVING
December 3rd
December 10th
December 17th
December 24th NO CLASS CHRISTMAS
December 31st NO CLASS NEW YEAR
January 7th
January 14th
January 21st
January 28th LURES AT TRANSFIGURATION
February 4th
February 11th
February 18th NO CLASS WINTER BREAK
February 25th
March 4th
March 11th
March 18th
March 25th
April 1st NO CLASS EASTER
April 8th
April 15th
April 22nd
April 29th
May 6th
May 13th