School of Religion (CCD)
Alison Morisi, Coordinator of Religious Education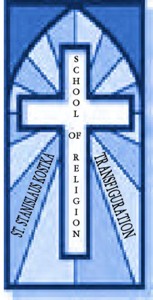 Saint Stanislaus Kostka and Transfiguration School of Religion classes are held Sundays during the school year  at 9:30am in St. Stanislaus Kostka Academy (61-17 Grand Avenue, Maspeth) from September – May.  After instruction, children are encouraged to attend 11am Mass at St. Stanislaus Kostka Church with their families and friends.
 Children are expected to attend all classes except for illness or weather related closing.
***Children WILL NOT be released early for C.Y.O Sports/Activities***
REGISTRATION FORM FOR NEW STUDENTS
REGISTRATION FORM FOR RETURNING STUDENTS
New students need to submit a copy of Baptismal Certificate with registration form
We ask that new and returning students submit a completed registration form
to St. Stanislaus Kostka Rectory (57-15 61st Street, Maspeth, NY 1378)
with payment:  $100 per student
$150 per family of 2 students or more
Check/moneyorder payable to St. Stanislaus Kostka/Transfiguration School of Religion
REGISTRATION FORM FOR FIRST EUCHARIST
Please return completed form with fee no later than Sunday, March 10th.